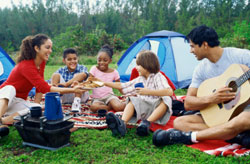 The days of sweltering summer heat have long since passed while the bitter cold of winter is yet to arrive. That makes for the perfect time of year to break out the packs, tents and trail maps and head for the mountains, canyons and forests sprinkled throughout the U.S. Whether you're a recreational camper preferring to set up your camp at the trailhead and casually venture along the most popular and well-traveled paths or a serious outdoor athlete aiming to push your physical boundaries, putting a little thought into how you're going to fuel your body for your planned hiking venture will go a long way into optimizing your camping experience.
For the Family Camping Crew
If you're taking the family out for a camping adventure, chances are good you'll stay fairly close to the trailhead and thus many modern conveniences while enjoying nature, a few hikes and the experience of an outdoor family bonding opportunity. With that, you have a little bit more flexibility in the foods you choose to bring on your trip while still creating the feeling of "roughing it." This, of course, doesn't mean that good nutrition and healthy food choices have to be thrown to the wayside. In fact, it's quite the opposite. Better your knowledge with ACE by reading up on our diet and nutrition education for those in need.
Here are a few suggestions of healthy, easy-to-transport foods that you might want to bring along:
- Whole wheat pancake/waffle batter mix
- Instant oatmeal
- Dried fruit
- Granola/granola bars
- Powdered milk
- Nutrition bars
- Trail mix
- Jerky
- Tuna (in the soft flavor-fresh, no drain packaging)
- Baby carrots
- Snap peas
- Pasta
- Diced tomatoes
These are just a sampling of ideas to get you thinking. Ultimately, you want to try to bring a protein, whole grain carbohydrate, fruit, and vegetable for each meal and some healthy carbohydrate-containing midday snacks to help fuel daytime hikes.
For the Recreational Athlete
Recommendations for the recreational athlete are based on the stereotypic weekend-warrior type athlete who is most likely to go for a strenuous day hike, or stay overnight in the wilderness for one or two nights. The key here is to pack lightly since the trip is fairly short and the pack already heavy enough, but to also ensure enough food and energy to fuel a rigorous trip. Backcountry hikers can burn a few thousand calories per day. Keeping that in mind, the day hiker needs to ensure adequate calories to fuel the journey. The easiest way to handle this is to carry several energy bars and gels, some dried fruit and trail mix and a couple of packages of freeze-dried meals. These can be heavy on the added sodium so it's important to read the labels prior to purchase. For example, Mountain House Spaghetti with Meat Sauce and Lasagna with Meat Sauce sound like they probably taste pretty similar but the spaghetti contains a whopping 1100mg of sodium per serving while the lasagna contains only 610mg. Resilient fresh foods will last about a day in the pack and might be a nice, healthy accompaniment to the other snacks for day trips. You might also consider some Gatorade or other sports drink single-serving powders to add your water for an energy boost.
For the Strenuous Journey
Serious backcountry athletes who are gearing up for a prolonged stay in the wilderness need to be the most mindful of their nutritional needs for the journey as well as the added weight that food and beverages contribute to the pack. In these cases, bringing basic cooking supplies is essential as is planning ahead and predicting caloric expenditure and energy needs for the trip. Assuming that each day will be a prolonged, intensive workout, hikers should employee sports nutrition principles for optimal performance and fueling. That is, in general, hikers should eat a couple of hours before beginning the strenuous hike.
Breakfast should include a small amount of a rapidly digestible carbohydrate like an energy bar and a serving of dried fruit with a small amount of an energy drink. During the hike, it is probably easiest and most effective to "graze" rather than set up camp for an elaborate lunch. Trail mix, dried fruits, energy bars and carbohydrate-containing drinks may do the trick. Hikers should aim to consume about 0.7 grams of carbohydrate per kilogram of body weight (weight in pounds divided by 2.2) per hour of continuous exercise (this is about 30-60grams of carbohydrate). (You can find the carbohydrate content of any given food on the nutrition label.) Hydration is, of course, essential and hikers should let thirst be their guide as they traverse nature's trails and paths. At the end of a long day of hiking, it is important for hikers to eat carbohydrates to replace the stored energy (glycogen) that was used up doing the workout. For best results, the American Dietetic Association recommends aiming to eat about 1.5g carbohydrate per kilogram body weight within 30 minutes of finishing the workout and then every two hours for four to six hours. A little bit of protein will also help to repair muscles. The easiest evening meal might be a pre-packaged meal chosen for its high carbohydrate intake and nutritional value followed by a couple evening snacks that will help facilitate muscle glycogen replenishment; however, any of the foods mentioned above for the family camper and recreational exercise may also be good choices.
Essentials for Everyone
First things first – hydration is your number one priority. Finding yourself at the top of a long trail depleted of water with no nearby rest stop or water fountain in site is an ugly situation, especially if it ends up being an unexpectedly hot or humid day. Do yourself a favor and carry extra fluids from what you anticipate you'll need. True, it is going to weigh you down a little bit, but the extra load beats the alternative of severe dehydration in the wilderness. Another option is to bring along a high-quality water filter if your path will bring you along creeks and rivers, as many trails do.
When deciding on what types of food to bring, consider your resources and travel plans. Will you be allowed to set up a campfire? How far removed from civilization will you be? Is this a day-trip or a several-day journey? Who has to carry this stuff and how far? The answers to these questions will help determine if you should bring the camping stove, bacon and eggs and pancake mix and all your s'mores supplies, or stick to the basics while trying at the same time to optimize nutritional and performance value of the foods you choose.
Regardless of your camping and/or hiking plans, before you pack your bags assess your goals and plan ahead. Put together a checklist with all of the supplies and foods you'll need to make your trip a success. The expert advice section of the REI website and the American Hiking Society offer several articles and checklists to help you get out there and enjoy the great outdoors. In addition, check out this ACE video that discusses injury prevention for hikers through yoga.