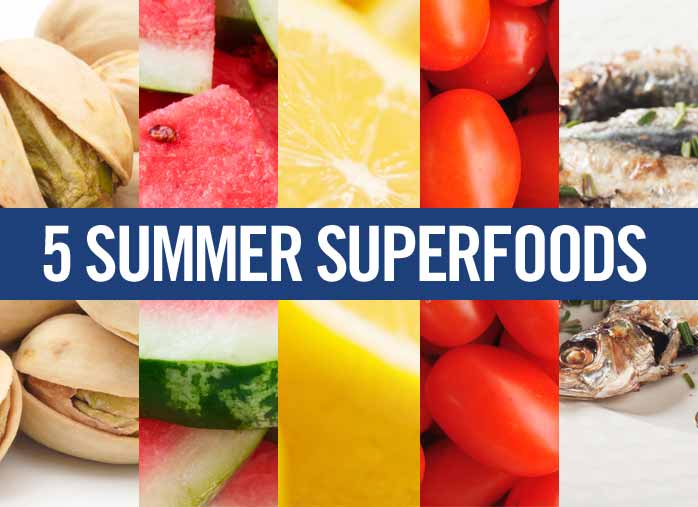 With summer knocking at the front door, who doesn't want to feel their best, shed those last pounds along with the extra bloat and look svelte in a swimsuit? Plus, if the thought of better skin, more energy and a boost to your mood sounds good, snacking on these five foods can aid your quest to start this summer off right.

Say goodbye to dehydration and the lethargy that often accompanies it. Watermelon is packed with water and potassium, which helps to restore fluid balance in the body to keep you hydrated, cool and refreshed—all of which help you steer clear of fatigue. Watermelon boosts your energy level with its quality carbs and is a great low-calorie fruit that won't weigh you down. Enjoy watermelon during the warm summer months for a sweet treat that will fill you up with water and fiber, leaving less room for calorie-loaded cookies and desserts. Plus, an entire cup of cubed watermelon contains just 46 calories!
The Sweet Bonus: Watermelon contains vitamin C and lycopene, which will keep your skin healthy and naturally protected from the sun.
Get More:
Add watermelon chunks to salads for a crunchy sweet twist
Thread watermelon on skewers and enjoy as a kabob
Toss it on the grill for a sweet summer treat
Blend watermelon with ice to make a refreshing smoothie

Few foods contain the satisfying combination of both protein and fiber, which is exactly what makes pistachios the perfect snack for preventing hunger. Just 30 pistachios are a satiating, delicious, healthy snack, all for about 100 calories. Unlike some proteins, such as fatty meats, pistachios won't clog your arteries because they contain heart-healthy fat and are packed with antioxidants to help protect your body from damage. Plus, most proteins spoil in the hot sun, but not pistachios—they're the ideal, non-perishable snack to keep on hand wherever you go, allowing you to say adios to vending machines and high-calorie snack temptations.
The Crunchy Bonus: Pistachios contain lutein and zeaxanthin, which help to keep your eyes healthy and prevent age-related macular degeneration.
Get More:
Portion out 30 pistachios in zip-lock bags and pack them as an easy on-the-go snack for summer activities like hiking and bike rides
Toss pistachios in yogurt for an added crunch
Crush pistachios and use as a breading for chicken and fish
Add to salads for a nutty flavor

Sweet and delish, grape tomatoes are a perfect low-calorie, grab-on-the-go snack. Given their high water and high potassium combo, this tasty and healthy treat helps flush out excess bloat, all while keeping you cool in the warm summer sun.
The Summertime Bonus: They're packed with beta-carotene and lycopene to protect your skin from the sun—and if you do get sunburn, they'll help you recover more quickly.
Get More:
String wooden skewers with grape tomatoes and low-fat string cheese for picnics and BBQs
Make grape tomato salsa for topping fish and chicken
Cut them in half and toss in omelets and casseroles
Add them to sandwiches or salads for a sweet burst of flavor

These citrus superstars are one of the best ways to keep your waistline in check. Kiss fatty condiments, bloating salt and sugary belt-busting beverages goodbye and say hello to your skinny self when you opt for lemon to add tantalizing flavor to food and drinks. Flavor everything from water and steamed veggies to cooked proteins like fish and chicken with a squeeze of lemon juice for a great taste without the unwanted calories.
The Beautiful Bonus: Lemons are a great source of antioxidant-rich vitamin C, which is needed to produce collagen, giving your skin its youthful elasticity.
Get More:
Instead of using marinades or dressing, spritz lemon on salads, fish and chicken Use lemon to flavor water, tea and other beverages
Squeeze lemon into ricotta cheese and yogurt for a tart twist
Use lemon and a little olive oil instead of mayo in tuna salad

Despite their tiny size, sardines pack a serious health punch. This healthy omega-3 fat-packed protein will keep you feeling satisfied. And, unlike other good sources of omega-3s—like tuna and salmon—sardines are low in toxins like PCBs and mercury, and they're budget-friendly.
The Big Bonus: The omega-3s in sardines may help to boost your mood, as research shows that people who don't get enough omega-3s may be at greater risk for depression.
Get More:
Add lemon and fat-free feta to sardines to make an easy, omega-3-packed sandwich
Add sardines to cucumber slices or lettuce leaves for a low-calorie snack
Break up sardines and scramble them in eggs or mix them in tomato sauce
Toss them on a salad for a punch of protein