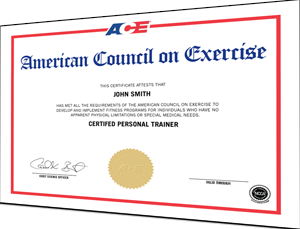 For those of you who have recently passed your certification exam, congratulations and welcome to the ACE family! You can finally close those books (for now) and take a deep breath while you think about the next steps in your career as a fitness professional. As an ACE-certified Fitness Professional, you now have access to several great features that can be extremely helpful as you start your career.
Your Certification
You will receive your formal certificate in about four to six weeks from the day you completed your exam. However, if you need to verify that you're certified before you receive your certificate, you can print out a proof of certification letter from within your online ACE account.
Your ACE Account
Now that you are ACE certified, the online account that you used for Academy Elite and other study resources turns into an online profile where you can market yourself and your services on ACEfit.com. This is a great way to gain exposure and be found by individuals who are looking for a fitness professional in their area. Make sure to fill out as much as possible, because the more complete your profile is, the sooner it will appear on the listing. To improve your Find an ACE Trainer ranking, make sure that you have provided the following information to ACE:
On your profile page:
Your description
Your picture
Your specialties
Your hourly rates
On your My Home page
Your current CPR information
Your liability insurance information
You will also rank higher if you have more than one current ACE certification
IDEA Fitness Journal
Another great resource you now have access to is the IDEA Fitness Journal, which is published 10 times per year. The journal features a wide range of health- and fitness-related topics and continuing-education opportunities.
ProSource™
Be sure to sign up to receive ProSource, ACE's monthly e-newsletter for fitness professionals. Featuring the latest health and fitness information and cutting-edge programming, ProSource also includes exclusive ACE-sponsored studies on topics and trends like P90X and barefoot running. The all-online format makes it easy to earn 0.2 CECs with each issue, and ACE-certified Professionals receive a discounted rate on this great continuing education resource.
Additional Resources
Finally, be sure to check out the "Additional Resources" section, which you can access when you are logged in to your ACE account. This section features three columns: Professional Resources, Business Resources and Educational Resources. Take the time to go through each one, which includes great information, resources and exclusive offers, such as professional benefits and discounts (15% off SPRI equipment, discounted liability insurance), access to the ACE logo, business tools and products, Gymjob, forms to set up a business, and SPORTDiscus, which gives you access to thousands of peer-reviewed scientific journals.
Now that you are a part of the ACE family you can access all of these tools and benefits, and we encourage you to do so as you begin your career. And don't forget that you can still contact the ACE Resource Center if you have questions or need help with something. We are here to offer you support and assistance and do all we can to help you grow your career in the fitness industry.