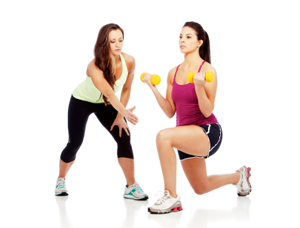 You've spent countless hours reading your manual, going through the lessons in Academy Elite and quizzing yourself with flashcards. And, thanks to all of your hard work, you've finally passed your certification exam. First, we want to say congratulations and welcome to the ACE team! This is just the beginning of a very exciting and rewarding journey as a certified fitness professional. After putting so much energy into memorizing and reading about how to be a fitness professional, you're undoubtedly anxious to put what you've learned into practice.
It is common to feel that you should do some practical application before getting started with clients. To help you feel comfortable and ready for your first session with a client, here are some great ideas for acquiring some hands-on experience:
Visit your local gyms and inquire about job shadowing. This is also a good way to get your foot in the door with a gym that may be looking for trainers. Shadowing a trainer can provide you with invaluable practical experience.
Contact an ACE trainer in your area using our Find a Pro tool. You may find an ACE pro who would love to have you job shadow with them. Or, you could purchase a session with them and explain that you are looking for practical help and will be asking a lot of questions.
Attend a live workshop. Not only will you get some experience, but you'll also earn CECs and have the chance to network with other pros in your area. Here are two informative workshops we recommend for newly certified pros: Personal Training Workshop: Client Communication, Assessment and Program Design and Metabolic Training Workshop.
Donate your time and get involved with the Joining Forces program. This is a great way to get started immediately, gain some experience and help out military families. You may even gain new clients through the relationships you form!
Don't forget to log back into your ACE account and check out all the additional resources you now have access to, including: marketing and business information, usage of the ACE logo, business cards and an educational resource tool called SportDiscus.
Update your online profile with a photo and bio. This will help those searching for a personal trainer in your area find your profile more easily.
Taking the first steps in your career as a fitness professional can be both exciting and intimidating. Getting some hands-on experience prior to working with clients will help build your confidence, which will, in turn, increase your client's trust in you. And as you will soon find, this is the key to building lasting relationships that will carry on throughout your entire career.