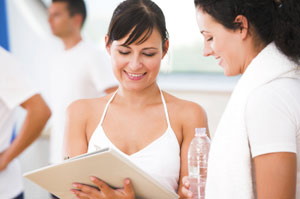 Often times, many confuse a personal trainer, athletic trainer and physical therapist because the three professionals have many similar qualities and characteristics. However, there are some very distinct differences between the three.
PERSONAL TRAINER (CPT):
Certified personal trainers (CPT) are fitness professionals who have met the requirements established by a national certifying organization, e.g. American Council on Exercise, to develop and implement fitness programs for clients who have no apparent physical limitations or who have received medical clearance to exercise.
Personal training is a customer service- based industry focused on helping people enhance their fitness and modify risk factors to improve their health, prevent disease, and enhance function following the completion of a physical or cardiac rehabilitation program.
CPT Scope of Practice
Conducting interviews
Conducting assessments to facilitate program design
Identifying the need for referral, developing and implementing safe and effective exercise programs to improve fitness and function with individuals and small groups
Coaching clients through fitness-related behavior changes
Educating clients on fitness-related topics to enhance program adherence and success
Providing services that complement medical treatments or rehabilitation as part of an allied healthcare team
Referring clients to other healthcare professionals when appropriate
Education Requirements:
4 year degree in kinesiology, exercise physiology, or exercise-related fields (optional)
Personal Trainer Certification (required); ideally one which is NCCA-accredited (now required by many clubs and facilities)
Licensure:
Personal trainers are not currently licensed in the U.S. or Canada. Licensure in other areas of allied healthcare has often required candidates to hold the appropriate NCCA-accredited certification in that particular industry to obtain the license. This is an important reason for professionals looking to enter the fitness industry to earn a NCCA Accredited certification, such as the ACE Personal Trainer Certification.
Work Environment:
Gym facilities
Rehabilitation facilities
Private practice
Hospitals (in-patient/out-patient)
Private business

CPTs can have quite a bit of flexibility with their schedule depending on their clientele, though the average CPT works early morning, lunch time and evenings to accommodate clients' work schedules.
ATHLETIC TRAINER (ATC):
Certified athletic trainers (ATC) are professionals who help prevent and treat injuries for people of all ages. Their clientele includes everyone from professional athletes to industrial workers.
ATCs are recognized by the American Medical Association as allied health professionals who may work under the direction of a licensed physician, and in cooperation with other healthcare providers.
ATC Scope of Practice
Specialize in the prevention, diagnosis, assessment, treatment, and rehabilitation of muscle and bone injuries and illnesses
Recognize, evaluate, and assess injuries and provide immediate care when needed

Side note: specifics of ATC Scope of Practice can vary from state to state
Educational Requirements:
Bachelor's degree or higher in Athletic Training (required for BOC)
Licensure:
Currently 47 States required athletic trainers to be licensed or registered and this requires certification from the Board of Certification (BOC).
 For BOC certification, athletic trainers need a bachelor's or master's degree from an accredited athletic training program in addition to passing a rigorous examination.
In Alaska, California, West Virginia, and the District of Columbia where licensure is not required, certification is voluntary but may be helpful for those seeking jobs and advancement.
Work Environment:
High school, college and professional sports teams

 When working with a sports team, an ATC may log upwards of 50-70 hours (including nights and weekends) per week when in season while traveling with the team.

Hospitals and clinics

An ATC not working with a team may have a more established schedule of 40-50 hours per week with nights and weekends off.
PHYSICAL THERAPIST (PT):
Physical therapists are healthcare professionals who diagnose and treat individuals of all ages who have medical problems or other health-related conditions, illnesses, or injuries that limits their abilities to move and perform functional activities as well as they would like in their daily lives. Physical therapists often consult and practice with a variety of other professionals, such as physicians, dentists, nurses, educators, social workers, occupational therapists, speech-language pathologists, and audiologists.
PT Scope of Practice:
Examining (history, system review and tests and measures) individuals with impairment, functional limitation, and disability or other health-related conditions in order to determine a diagnosis, prognosis, and intervention.
Alleviating impairment and functional limitation by designing, implementing, and modifying therapeutic interventions.
Preventing injury, impairment, functional limitation, and disability, including the promotion and maintenance of health, wellness, fitness, and quality of life in all age populations.
Engaging in consultation, education, and research.
Educational Requirements:
Post-baccalaureate degree from an accredited physical therapy program (required)

Side note: many programs require volunteer experience in the physical therapy department of a hospital or clinic
Licensure:
All States regulate the practice of physical therapy and eligibility requirements vary by State.
Typical requirements for physical therapists include:

Graduation from an accredited physical therapy education program
Passing the National Physical Therapy Examination
Fulfilling State requirements such as jurisprudence exams.

Side note: A number of States require continuing education as a condition of maintaining licensure.
Work Environment:
Hospitals,
Private practices,
Outpatient clinics,
Home health agencies,
Schools
Sports and fitness facilities
Work settings
Nursing homes
In summary, these professions are similar in that they are customer service- based and customer care-based. However, they differ in their scopes of practice, educational requirements, licensure and work environments.
Be sure to review each of these professions in-depth when deciding which path you want to choose for yourself and your future career.