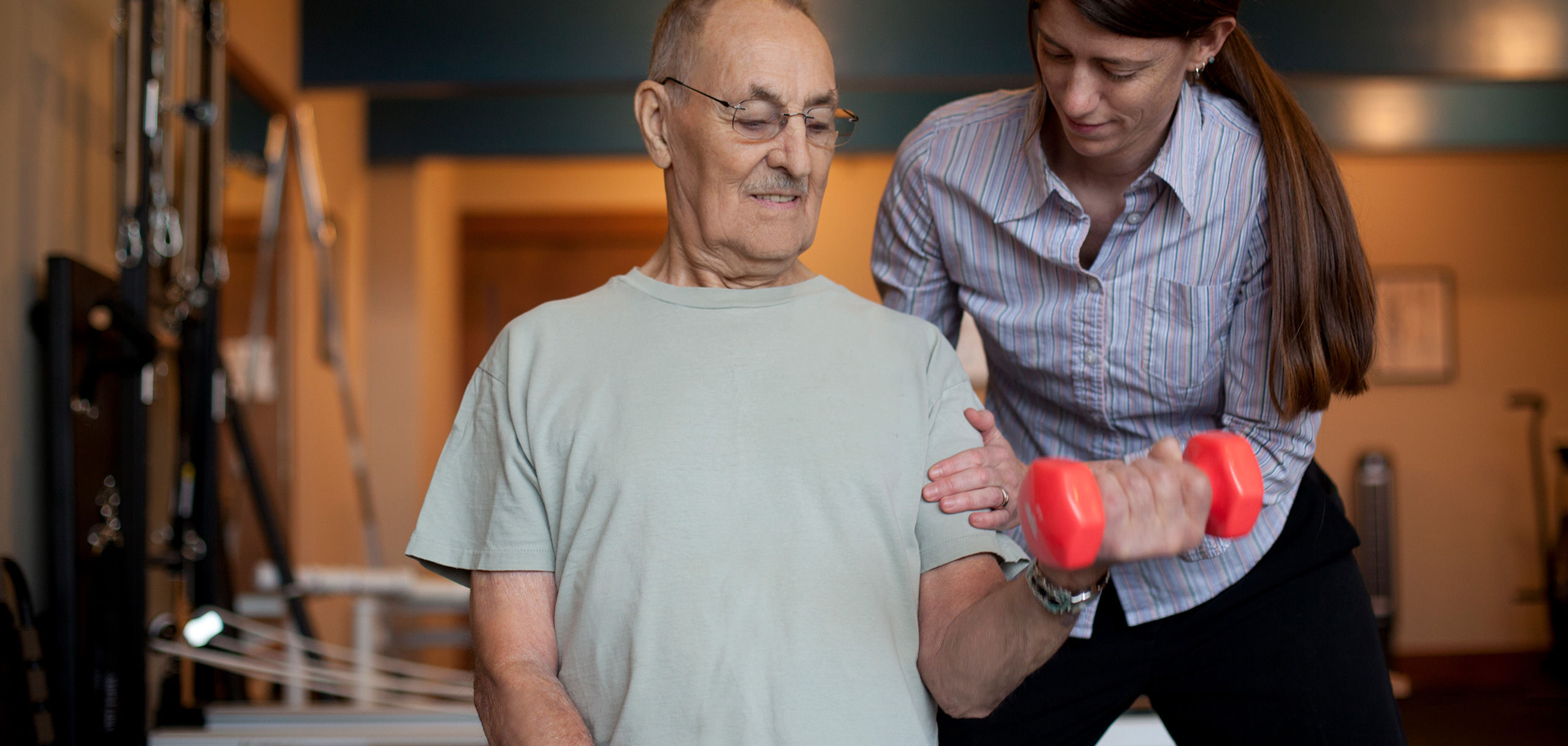 | | |
| --- | --- |
| Provider: | Cancer Exercise Training Institute |
| Included: | |
Help cancer patients survive and thrive through fitness
Working with cancer patients and survivors requires empathy, compassion, comprehensive knowledge of exercise oncology—and an entirely individualized approach. Each cancer patient's experience is unique and personal, both physically and emotionally. Developing the ability to assess individual patients and create health and fitness programs that benefit their unique experience is imperative to successfully working with cancer patients and survivors. The Cancer Exercise Specialist Program will teach you the practical, hands-on skills needed to guide patients through treatment into recovery and long-term survivorship, with a specific focus on individualized programming. This is your opportunity to bridge the gap between medicine and fitness, playing a key part in the healthcare continuum.
Andrea Leonard, president and founder of the Cancer Exercise Training Institute and PFP 2019 Personal Trainer of the Year, will guide you through an engaging, step-by-step approach to creating individualized, comprehensive and safe exercise recovery programs for those battling or recovering from cancer. The author of Essential Exercises for Breast Cancer Survivors and a renowned expert on exercise oncology, Andrea has personally trained and credentialed over 9,000 health and fitness professionals across the world. Andrea and The Cancer Exercise Training Institute (formerly the Breast Cancer Survivors Foundation) have been training health and exercise professionals to work safely and effectively with cancer patients since 1995. The Cancer Exercise Specialist Program, based on decades of research and experience, will give you the tools and confidence you need to work safely and effectively with cancer patients and survivors.
It takes a special, compassionate person to work with cancer patients, but it is one of the most rewarding opportunities you will have in your health and fitness career.
The most important career choice you'll ever make
According to the American Cancer Society, by the year 2022 there will be a projected 18 million cancer survivors in the United States alone. As a Cancer Exercise Specialist, you'll help these survivors rehabilitate both physically and mentally—and help them rediscover their strength as they enter into the next phase of their lives. This specialist program was developed for compassionate, empathetic health and fitness professionals seeking to gain a complete understanding of the entire cancer process from diagnosis and treatment through reconstruction and survivorship.
The Cancer Exercise Specialist program will prepare you with the knowledge and skills needed to effectively work with cancer patients and survivors, including:
An understanding of the diagnosis and treatment of cancer
How different treatments and surgeries impact physical mobility, posture and daily activities
The signs and symptoms of upper and lower extremity lymphedema and how to prevent and manage them
How to perform a full-body postural assessment and range of motion assessment
How to develop a comprehensive therapeutic exercise program to help correct muscle imbalance and range of motion limitations
How to develop sensible periodization principles based on the client's age, fitness level, reaction to treatment and/or length of survivorship
How do I become a Cancer Exercise Specialist?
To become a Cancer Exercise Specialist, you must complete four modules, each of which requires reading a handbook, watching videos, and passing a 125-question exam. Upon completion, you will be recognized as a Cancer Exercise Specialist by the Cancer Exercise Training Institute. This specialist program is valued at 3.5 continuing education hours.
Upon completion of the program, you will be added to the International Cancer Exercise Specialist Directory, making it easy for cancer patients and survivors to locate your services. You must contact CETI with contact information and credentials that you would like to see listed on the CES directory.
To maintain your Specialist designation, you will be required to requalify every two years. This ensures that all Cancer Exercise Specialists maintain a high level of proficiency within the ever-changing field of cancer treatments and procedures.
Payment Options
Cancer Exercise Specialist Program
Curriculum
Cancer Exercise Specialist Program
More ACE Specialist Programs
American Council on Exercise reserves the right to discontinue the sale or support of any product at any time, to remove, correct, or update content based on current industry standards, guidelines, or technological advances. Notification will be given to those who have purchased such products six months prior to expiration. No refund will be given for expiring products.