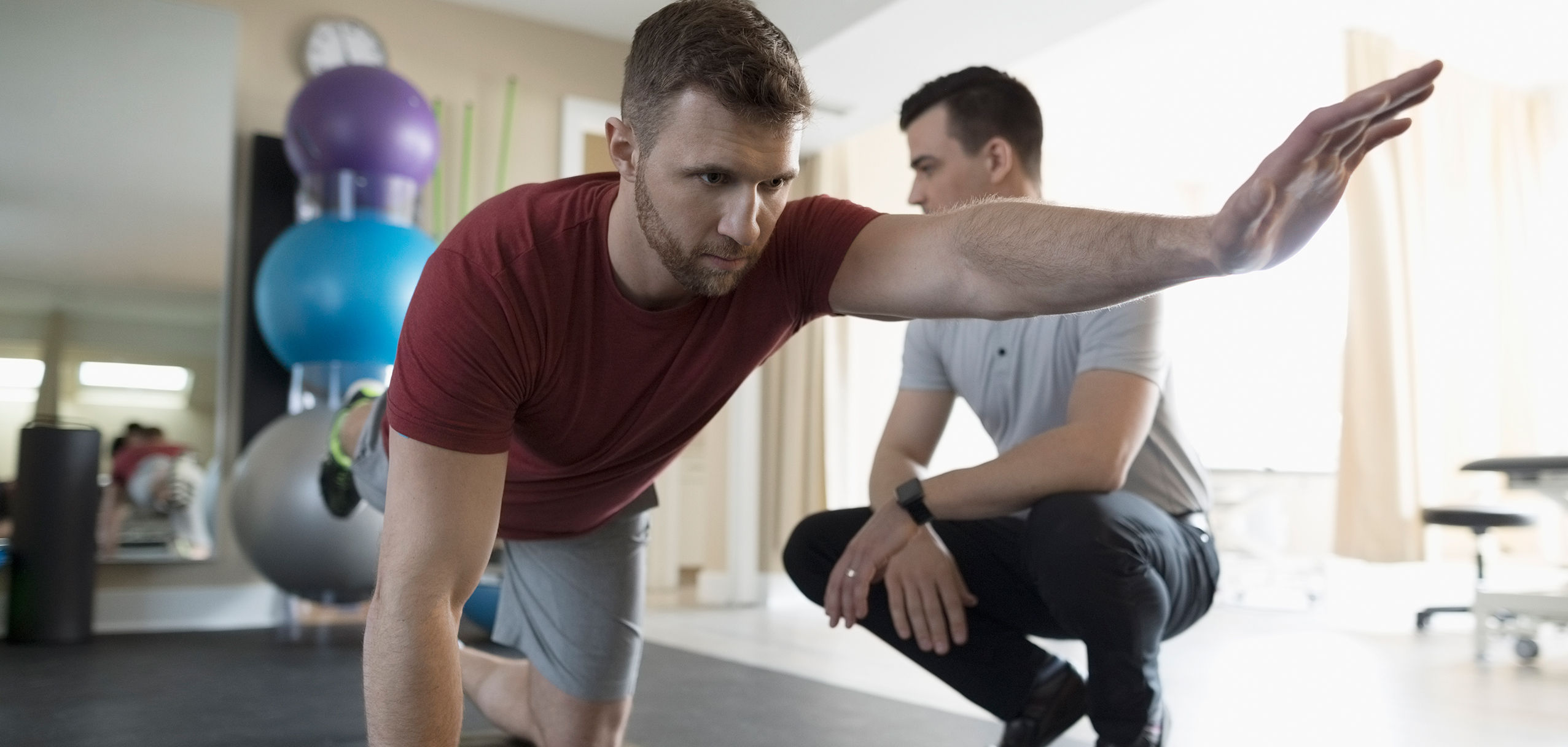 | | |
| --- | --- |
| Provider: | Function First |
| Included: | |
Help relieve your clients' chronic pain with strategic movement
Chronic pain can be physically, mentally and emotionally crippling—and it's not easy to remedy. People living with chronic pain suffer every day. Many turn to painkilling medications for short-term relief, but the pain never fully goes away—and the side effects are rarely worth it.
There is a better way: Movement.
As a Pain-Free Movement Specialist, you'll help clients overcome the pain that has damaged their lives—in some cases—for years. Developed by biomechanics and corrective exercise experts Anthony Carey, MA, CSCS, ACE-CMES and Kevin Murray, CAFS, CPT, who holds an M.A. in Counselling Psychology, the Pain-Free Movement Specialist program was built upon the Function First Approach—which believes that eliminating pain is best achieved by addressing the body as a whole, and that pain is unique to each individual. As the only exercise-based program designed specifically using a biopyschosocial approach, you will learn how pain affects the balance of your clients' physical biology, social interaction, and psychological state, and then how to coach exercise sequencing in a given session based on their biological, psychological and emotional readiness. Over the course of weeks and months, you will progress your clients through changing movement patterns and build on their success.
Anthony Carey, an internationally recognized biomechanics expert, best-selling author and inventor of the Core-Tex®, and Kevin Murray, founder of Movement Masterminds, will lead you through a deep and immersive program where they will share insights on how specific changes through the implementation of decisive corrective exercise techniques can create profound improvements in your clients', patients' and athletes' lives.
Billions of people worldwide suffer from chronic pain. You can help.
The Pain-Free Movement Specialist program is designed for experienced health and fitness professionals (suggested 2+ years in the industry) who want to help people eliminate pain and improve function, health and wellness. You will gain a comprehensive understanding of both corrective exercise and the rapport-building skills needed to work with clients in pain.
According to the American Academy of Pain Medicine, more than 1.5 billion people worldwide suffer from chronic pain*. Honing your skills in pain-free movement can help you expand your clientele by specializing in a variety of growing populations, from post-rehab clients and athletes to Baby Boomers and others—and create lasting and profound change in their lives.
Over six detailed modules, you will learn to help those in pain feel better, move better, and live more productive lives doing the things they enjoy. The Pain-Free Movement Specialist curriculum is based on the Function First Approach, and is the first of its kind. No other exercise-based program is designed specifically to prepare you to work with the client in pain using a biopsychosocial approach.
How do I become a Pain-Free Movement Specialist?
To become a Pain-Free Movement Specialist, you must complete all six modules and the corresponding quizzes. The total course time is approximately 12 hours, and includes videos, written content in downloadable PDFs, and a copy of Anthony Carey's eBook, The Pain-Free Program: A Proven Method to Relieve Back, Neck, Shoulder and Joint Pain.
*http://www.painmed.org/patientcenter/facts_on_pain.aspx#chronic
Payment Options
Pain-Free Movement Specialist Program
*eBook compatible with desktops (Mac & PC), tablets and smartphones (iOS & Android) only. Cannot be printed.
Curriculum
Pain-Free Movement Specialist Program
More ACE Specialist Programs
American Council on Exercise reserves the right to discontinue the sale or support of any product at any time, to remove, correct, or update content based on current industry standards, guidelines, or technological advances. Notification will be given to those who have purchased such products six months prior to expiration. No refund will be given for expiring products.