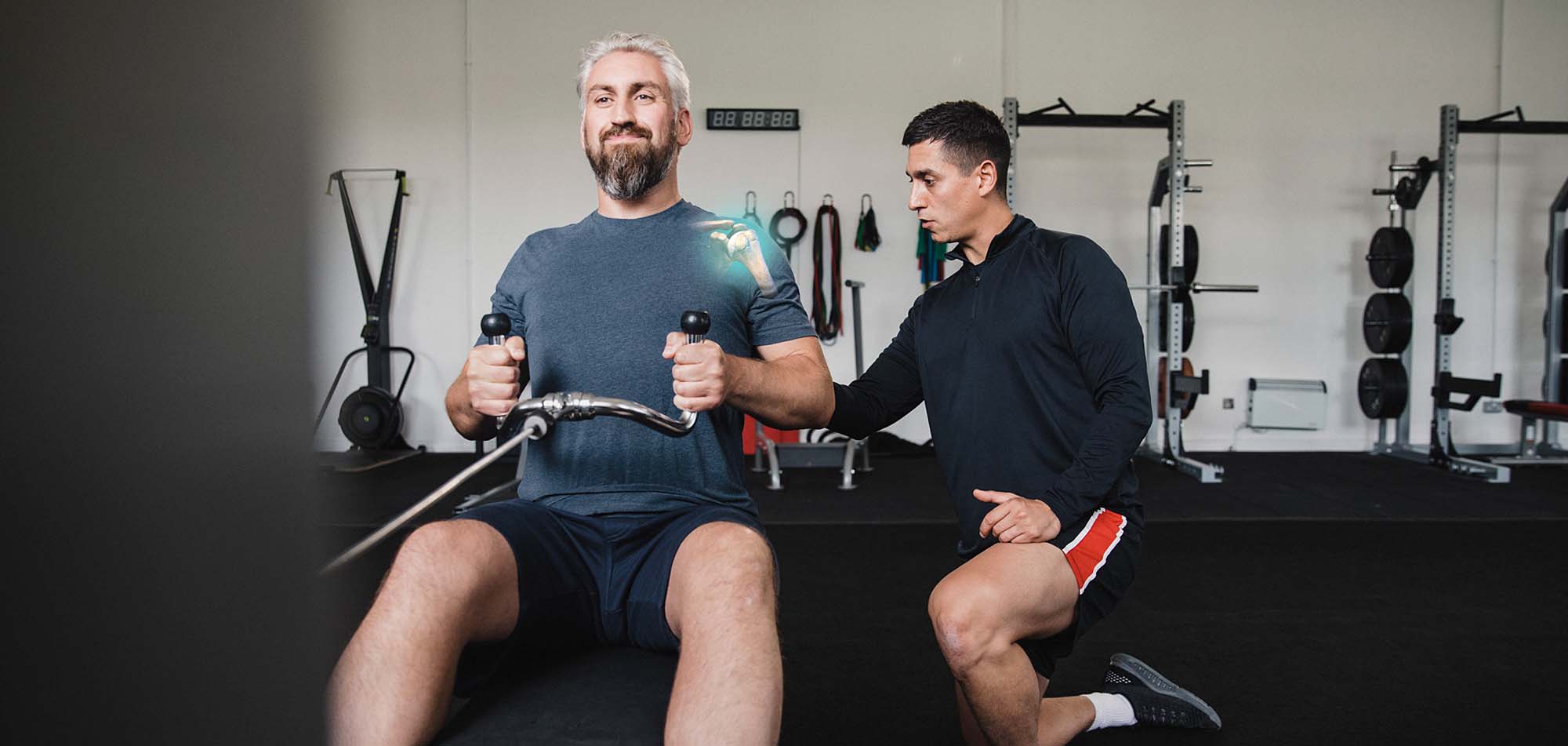 Help clients move beyond pain and resume the activities they love most
The prevalence of people enduring chronic orthopedic conditions or joint or muscle pain is high. Yearly, an estimated 50 million Americans experience chronic pain* and 8.6 million Americans are affected by injury†, often leaving them with decreased mobility, strength or function.
Knowledgeable exercise professionals can make all the difference for these clients by focusing on their unique goals and taking a functional approach to movement. The ACE Orthopedic Exercise Specialist Program provides a step-by-step method of recognizing client needs and applying appropriate exercise and programming techniques to support client achievement. Through personalized program design, you will help clients restore their confidence in performing activities of daily living and regain an active lifestyle. Furthermore, you will gain an understanding of how to effectively work together with medical professionals to improve your client's continuity of care, and enhance your referral business at the same time.
The ACE Orthopedic Exercise Specialist Program provides you the critical foundational knowledge of functional anatomy, allowing you to gain a deeper understanding of how anatomy and biomechanics apply to function. You will learn to create safe and effective programs using assessment considerations and identify appropriate exercises that can be immediately put into practice, enabling your clients to confidently resume their daily activities.
Empower clients to move in the ways that they want
Orthopedic injuries and conditions can have a devastating impact on an individual's lifestyle. As an ACE Orthopedic Exercise Specialist, you will help clients regain function and return to normal movement. You will coach clients to improved function, mobility, stability and strength, which will lead to less pain, better health and increased all-around quality of life. You will be equipped to work with a wide variety of clients, from those who want to jump back into an exercise regimen quickly to those who are afraid of moving and reinjuring themselves.
The ACE Orthopedic Exercise Specialist Program prepares the exercise professional to understand and assess the body as an integrated unit in order to better serve clients with chronic orthopedic conditions or those returning to activity post-injury. You will learn functional anatomy, movement assessments and step-by-step program design techniques. In addition to deepening your knowledge of human movement, you will understand key communication strategies so you can better connect with your clients and medical professionals. Upon completion, you will be equipped with the knowledge and solutions to confidently, safely and effectively help this population.
Meet the Experts
This course kicks off as ACE Exercise Physiology Content Manager Jacque Crockford, M.S., CSCS brings together top experts, including:
Greg Degnan, MD and Kelly Lynn from Atlantic Coast Athletic Clubs, who share their successful approach to building an orthopedic exercise referral network for personal trainers
Michol Dalcourt, founder of the Institute of Motion and co-creator of ViPR, who brings his internationally-recognized expertise to understanding functional anatomy in exercise
Kathryn Fox, DC and Elizabeth Leeds, DPT, who share tips and perspective on cross-referrals and collaboration from their experience working in chiropractic and physical therapy
Subject matter experts Vickie Samuels, Sam Berry, M.S. and Lauren Shroyer, M.S., ATC, who elucidate the foundational concepts of functional anatomy and the application of movement assessment and exercise for orthopedic conditions
How do I become an ACE Orthopedic Exercise Specialist?
To become an ACE Orthopedic Exercise Specialist, you will complete each of the modules listed below, as well as pass the quizzes associated with the material.
Anyone may complete the ACE Orthopedic Exercise Specialist Program, but only those who also hold a current NCCA-accredited certification or an equivalent professional credential will be recognized as an ACE Specialist. For a list of accepted prerequisite credentials, click here.
*Centers for Disease Control and Prevention; †U.S. Department of Health and Human Services
Payment Options
Orthopedic Exercise Specialist Program
eBook + Hard Copy
FREE

Ground Shipping

Save $20!

USA only. Excludes US territories.
CEC Power Pass
Unlimited learning. Maximum impact.
*eBook compatible with desktops (Mac & PC), tablets and smartphones (iOS & Android) only. Cannot be printed.
Curriculum
Orthopedic Exercise Specialist Program
More ACE Specialist Programs
The American Council on Exercise reserves the right to discontinue the sale and/or support of any continuing education course at any time, in order to cancel, correct, or update content based on current industry standards, guidelines, and/or technological advances. Notification will be given six months prior to expiration to allow for course completion. No refund will be given for expiring courses.