Much has changed since ACE launched the Moving Together Outside campaign in April 2021. 
Two-thirds of Americans are fully vaccinated against COVID-19. The mask mandate is lifted again. Schools, workplaces, shops, and restaurants across the country have resumed in-person operations. 
Of course, indoor gyms and exercise facilities have also reopened. But thanks to the increased issuance of SUAs and similar permits throughout the pandemic, people across America experienced the many benefits of green exercise. Underserved communities gained access to safe, structured outdoor physical activity. And certified exercise professionals discovered a new way to grow their client base long-term. 
On the one-year anniversary of the Moving Together Outside campaign, ACE takes a look at all the movement has accomplished over the past 12 months, and what the future of the campaign holds.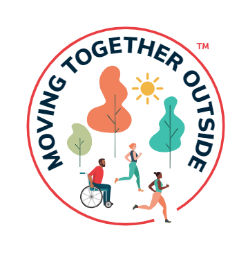 Major milestones of the Moving Together Outside campaign
Over the past year, the Moving Together Outside campaign met some very important milestones. The campaign's mission to increase the number of shared-use agreements across the country resonated with millions of people: 
135 total campaign supporters

5 municipalities and local government organizations

29 businesses and community organizations (including trade organizations and national advocacy groups)

101 exercise and health professionals

21 publications picked up Moving Together Outside Campaign opinion pieces and stories, which reached approximately 31.5 million readers

16 blog posts published

1 webinar hosted

1 Shared Use Toolkit developed

#MovingTogetherOutside hashtag was used 305 times:

144 times on Instagram

72 times on Facebook

18 times on Twitter

71 times on LinkedIn
Success and impact of Moving Together Outside 
The team at ACE behind the campaign had a clear picture of what success looked like from the beginning. 
"First, we believed that Moving Together Outside would be successful if exercise professionals, health coaches, municipalities, local governments, and other stakeholders gained more awareness of the benefits of shared-use agreements," said Graham Melstrand, Executive Vice President of Mission and Innovation at ACE. 
"Secondly, the campaign's success also included exercise professionals and health coaches having clear guidance on how to partner with local government entities to set up SUAs and get more people moving." 
Moving Together Outside has not only increased SUA awareness and resources among ACE Certified Professionals, but they've also increased awareness in the general public through published articles and blogs.
According to Graham, the two most impactful moments of the campaign so far include:
Providing SUA education through

a live webinar

, which will soon become a new course offering at ACE where ACE Professionals all over the world can learn about the benefits of SUAs and similar permitting agreements

Profiling the great work of some of our campaign supporters, like the City of St. Petersburg, City of San Diego, Fit Lot, and HealthWorks—just to name a few! 
The future of the Moving Together Outside campaign
The team at ACE feels strongly that Moving Together Outside will continue to act as an educational repository and advocacy engine for green exercise even after the COVID-19 pandemic transitions into an endemic. 
"As Moving Together Outside moves into 2022 and beyond, we plan to continue highlighting the work of municipalities and health and exercise professionals dedicated to getting people moving outside with the help of shared-use agreements," Graham said. 
ACE will also release the first-ever directory of cities that have shared-use agreements for health and exercise professionals to use. Since no directory like this currently exists, they expect it to be a very useful tool for industry professionals to take their business outdoors. 
"The COVID-19 pandemic dramatically altered the fitness industry for good," Graham explained. "We at ACE believe that many exercise professionals and businesses learned how valuable outdoor physical activity is to their clients and the community in general. For this reason, we're hopeful that the great traction around increasing SUAs across the nation will endure and continue to be a tool for exercise professionals and municipalities long into the future." 
Shared use agreements are a win-win for everyone across the U.S. To learn more, visit the Moving Together Outside campaign online.