When indoor gyms and other exercise facilities were forced to close during the pandemic, many people turned to green exercise to safely continue their regular physical activity. What began as a safe workaround to indoor exercise venues quickly gained momentum—and staying power.
Green exercise, or exercise that is done outdoors in natural environments, has now become a staple in the lives of millions of Americans.
"There are so many mental and physical health benefits to being active outdoors, and people who spent more of their lives outdoors during the pandemic may be more interested in outdoor activity options," said Dr. Amy Bantham, Moving Together Outside campaign spokesperson.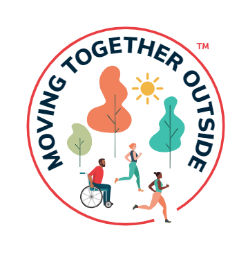 As such, certified exercise professionals have an excellent opportunity to grow their client base long-term by incorporating green exercise options into their client routines. Here are five ways to get started with that right now.
1) Expand your offerings with outdoor sessions at a variety of locations. Give your clients a change of scenery, along with fresh air and sunshine, by offering outdoor exercise sessions at a wide array of convenient locations. Shared-use agreements (SUAs) and similar agreements issued by local governments allow certified exercise professionals and other physical activity and exercise program leaders to use community parks, school facilities, and other public spaces for structured, professional-led fitness activities.
2) Take a hybrid approach to indoor-outdoor sessions. Post-pandemic life is all about hybridity. People are blending online and face-to-face classes in schools; remote and in-person employment in offices; and even continuing events like virtual wine and food tastings. Your approach to exercise should be the same. By combining indoor and outdoor exercise sessions, you're helping to keep your participants committed and engaged with fitness as they ease into the new normal.
3) Use the ACE resources to establish and support a permitting process for outdoor sessions. Fortunately, many local governments have greatly reduced the fees and permitting criteria for SUAs and similar agreements due to the pandemic. But there are several ways that you can go about establishing a process for the long run with your local government for your outdoor exercise sessions. ACE's Shared Use Agreement Toolkit for ACE Certified Professionals and the Shared-use Park Etiquette and Safety: A Guide for Public Policy, the Health and Exercise Professional and Participants explains everything you need to know.
4) Engage your participants in green exercise outside of your scheduled sessions, with assignments to go hiking with family or friends. One great way to get your participants engaged with their natural surroundings for good is to assign them "homework" where they go for a leisurely hike or walk with family or friends. This helps underscore how moving around outside in nature solidifies a connection between physical and mental/emotional wellbeing.
5) Emphasize the mental health benefits of outdoor activity, including reduced stress and anxiety. Research has proven that the benefits of moving around outside are vast. Be sure to help your participants understand the ways in which outdoor activity can reduce their stress, anxiety, tension, and bad mood, and how doing so directly impacts their physical fitness goals.
Are you a certified exercise professional who wants to grow your business with green exercise? Visit the Moving Together Outside campaign to learn more!