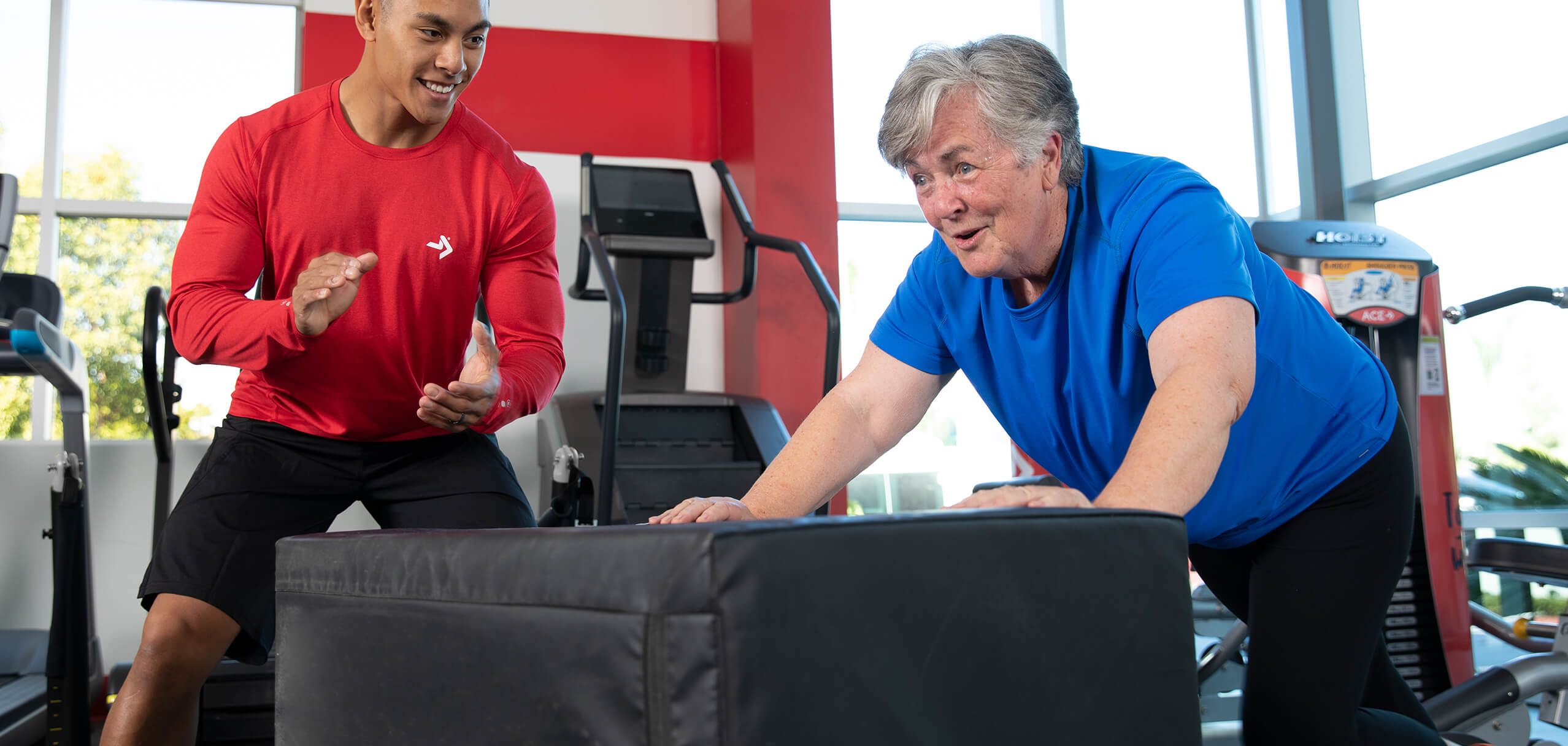 Millions of older adults need your help
According to the U.S. Census Bureau, 83.7 million people aged 65 and older are projected to be living in the United States by 2050. Despite this massive number of people, older adults represent a virtually untapped market for health and exercise professionals. Unlike the aging generations that came before them, older adults are more focused on fitness and health, and have the financial security to afford fitness services. Moreover, working with older adults offers the opportunity to completely transform lives through improved function and quality of life.
Support senior clients to lead healthy and happy lives
This growing population of older adults is seeking to gain strength and vitality while warding off inactivity-related disease and cognitive decline—and you can help them achieve their goals. The NEW & IMPROVED ACE Senior Fitness Specialist Program will teach you how to safely and effectively help senior clients maintain vibrancy through health and fitness. You'll discover a holistic approach to both body and brain health, combining rapport-building, behavior change, exercise programming, nutrition and cognitive health. Most older adults are impacted by some type of age-related chronic illness, injury or cognitive decline, so this specialized expertise will help increase your value and client pool.
Led by Sabrena Jo, ACE's Director of Science and Research, and Ryan Glatt, personal trainer and brain-health coach, the ACE Senior Fitness Specialist Program will give you the confidence and knowledge to meet the unique needs of senior clients so you can support and coach them as they reach their health and fitness goals.
This updated program covers a wide variety of programming options, assessments and communication techniques to help you understand the role health and fitness plays in the lives of older adults. The core portions of the curriculum include:
Coaching Senior Fitness - Learn how exercise is central to restoring or maintaining their functional independence and health. In addition, you will find out how to design programs that take into account their personality, needs, goals, stage of readiness and physical activity experience.
Brain Health Trainer - Explore the neurophysiological and cognitive effects of various exercise and physical activity interventions, as well as certain lifestyle interventions, so you can make recommendations that address the various stages of cognitive decline, such as dementia and Alzheimer's disease, in a structured, targeted and evidence-based fashion.
Upon completion of the entire program, you will be able to:
Understand the unique psychological and physiological needs of senior clients
Assess, evaluate and modify movement for senior clients to create a personalized program
Apply program design techniques using the updated ACE IFT® Model
Collaborate with senior clients to identify specific cognitive health goals
Partner with other health professionals to support a senior client's physical and cognitive health
How do I become an ACE Senior Fitness Specialist?
To become an ACE Senior Fitness Specialist, you will complete each of the modules listed below, as well as complete the quizzes associated with the material.
Anyone may complete the Senior Fitness Specialist Program, but only those who also hold a current NCCA-accredited certification or an equivalent professional credential will be recognized as an ACE Specialist. For a list of accepted pre-requisite credentials, click here.
Payment Options
Senior Fitness Specialist Program
eBook + Hard Copy
FREE

Ground Shipping

Save $20!

USA only. Excludes US territories.
CEC Power Pass
Unlimited learning. Maximum impact.
*eBook compatible with desktops (Mac & PC), tablets and smartphones (iOS & Android) only. Cannot be printed.
Curriculum
Senior Fitness Specialist Program
More ACE Specialist Programs
American Council on Exercise reserves the right to discontinue the sale or support of any product at any time, to remove, correct, or update content based on current industry standards, guidelines, or technological advances. Notification will be given to those who have purchased such products six months prior to expiration. No refund will be given for expiring products.