We're happy to announce a new partnership with GAIN for Trainers, a 3-in-1 tech tool for fitness professionals. Click here to learn more about exlusive discounts for ACE pros! And read on to discover why Nick Gammell created GAIN and exactly what it can do for you and your clients.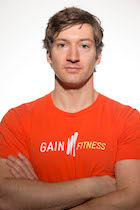 ACE: What inspired you to create GAIN?
Nick: Initially, I started GAIN out of personal need. After college, as a young professional, I needed a more convenient way to manage my fitness while traveling as a busy consultant. Later, as an analyst working at Google, I refined my ideas on how technology could solve this problem and met a lot of people who could help.
After the first 3 years at GAIN, where we'd focused on an algorithmic workout app for consumers, we realized most people need more encouragement, support and education than what a workout app alone could provide—everyone needed a personal trainer. Since then, I became a certified trainer, and GAIN has been on a mission to make personal training more accessible, affordable, and convenient for all.
ACE: What makes this platform different from others?
Nick: First, user experience. We are extremely passionate about user experience and building a product that is so easy to use, intuitive and beautiful. We are constantly upping our game to make this app and website easier, faster, more streamlined. Second, we are trainers ourselves. Nearly everyone on the GAIN product development team, from the product manager to the app developer, are certified fitness professionals. So, we infuse everything we do with that firsthand understanding and insight.
ACE: What are 1-2 remote coaching tips you have for trainers/coaches?
Nick: Send a quick ping to let them know you're watching. In addition to providing your clients with smartly designed workouts, a quick ping—to let them know you're watching and that you care—can mean the difference between complacency and success. And use your personality—that's why they love you.
ACE: What one "secret" tip to get the most out of the GAIN platform that you don't want ACE pros to miss out on?
Nick: Keywords and Templates! When building workouts, try using different keywords to explore the variety of exercises in the GAIN library. There's a Keyword Helper that will show you a lot of shortcuts (press the "i" button in the Exercise Search bar). Learning a few of these keywords will come in handy. Also, Templates is a great feature for creating re-usable workouts or parts of workouts (go-to warmups, cooldowns, etc.). [And] we have some improvements in the works to make them even easier to use, coming soon!
ACE: Why are you excited to partner with ACE?
Nick: ACE Fitness is the premier certification for fitness professionals. I chose an ACE CPT certification myself several years ago after researching all the alternatives. We've been impressed with how ACE has continued to grow and evolve as the industry has accelerated it's pace of change—especially when it comes to technology. ACE "gets it," and we couldn't be happier to partner with them.