ACE recently had the opportunity to speak with Dr. Amy Bantham, CEO and Founder of Move to Live MoreSM. Move to Live More seeks to break down silos and develop multi-level, cross-sector solutions to address chronic disease, physical inactivity, obesity and social determinants of health. It works to bring together healthcare, health & fitness, and communities to get people active and healthy. Continue reading to hear more from Dr. Bantham about how her experience in the health & fitness industry, public health, academia and community informs collaborative efforts to get more people moving and healthy across the world.
How did you first get involved in the health & fitness industry?
Dr. Amy Bantham (AB): In the 1990s, I was an avid group fitness participant. After being encouraged to teach group exercise classes myself, I went on to get my ACE Group Fitness Instructor Certification in 1996. I later earned my ACE Personal Trainer and ACE Health Coach certifications in 2006 and 2020 respectively. In addition, I worked at the International Health Racquet & Sportsclub Association (IHRSA) from 2006-2017, leading advocacy initiatives to make physical activity more affordable and accessible. My time at IHRSA included overseeing the IHRSA Foundation's ACCESS Health Initiative, which helps health clubs provide programming and services to people with chronic conditions, including people living with diabetes, cancer and disability.
Based on your research, what recurring themes have you found?
AB: The number one recurring theme is that addressing social determinants of health and chronic disease requires cross-sector collaboration and innovation. I founded Move to Live More because I didn't see that anyone was exactly doing what I wanted to do, which was to connect all three sectors (healthcare, health & fitness, and communities)—maybe two out of three, but not all three. I did my doctoral fieldwork at Intermountain Healthcare, connecting healthcare and communities to intervene around non-medical determinants of health, like transportation, housing and yes, health behaviors like physical activity. I conducted my doctoral research at a New England healthcare organization, where I found that physicians were less comfortable referring patients to community-based than hospital-based fitness centers and professionals. This "trust gap" inspired a 10-step roadmap to build physicians' trust in the ability of community-based facilities and professionals to provide good care for their patients.
Bottom-line, increased collaboration between healthcare, health & fitness and communities can improve population health, decrease healthcare costs and better support individuals living with chronic disease.
What opportunities exist for the health & fitness industry, healthcare and communities?
AB: By working together, professionals in health & fitness, healthcare and communities can help people live healthier, longer and more active lives. Move to Live More works within these different sectors to connect professionals so we're working together on similar public health goals, not on parallel tracks. See below for some examples of how the efforts of health & fitness, healthcare and communities can intersect for the greater good.
In some regions, these efforts are well underway, while other localities could benefit from some support and guidance. Move to Live More helps organizations take that first step by providing research and consulting services, including strategic planning, coalition building, qualitative and quantitative research, translating research into policy, and program design, implementation and evaluation.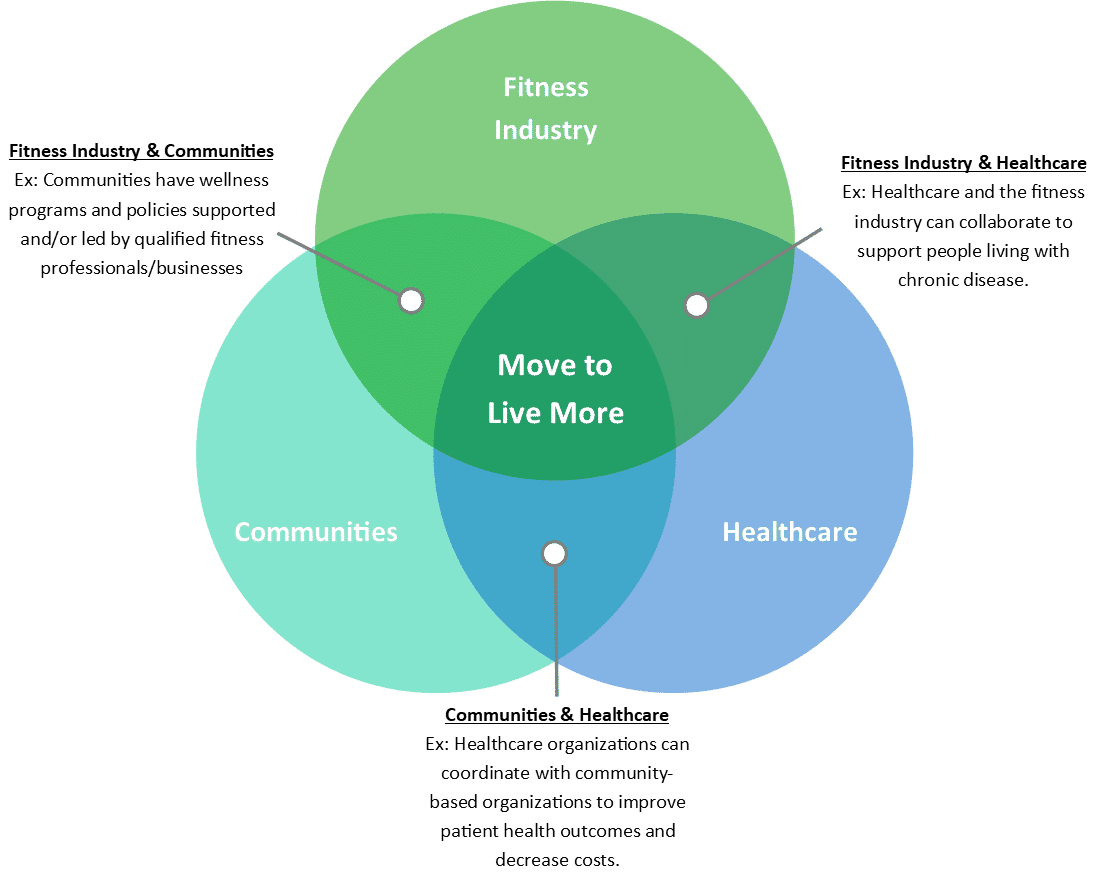 With the COVID-19 pandemic, what is research telling us now?
AB: Since the start of the COVID-19 pandemic, research suggests that physical activity has decreased compared to pre-pandemic levels. We've seen a decrease in physical activity in individuals who lost employment due to the pandemic, individuals with obesity, and children. We know the many health benefits of physical activity, including less anxiety and stress, increased focus, and improved physical health. I find the reduction in physical activity among children particularly concerning given pre-pandemic levels of childhood obesity; we will need a renewed focus on increased promotion and creative options for youth physical activity post-pandemic.
What are you looking forward to?
AB: Though the pandemic has dramatically shifted our routines and lives, there are many opportunities for cross-sector partnerships that support increased physical activity. Virtual exercise options as well as outdoor options provide people with opportunities to explore new fitness activities. The COVID-19 pandemic has shined a light on the linkages between physical activity and mental health and well-being, and reminded us how much we want to feel connected to others. I am particularly excited about the Moving Together Outside Campaign [link to MTO instapage] because it draws on these themes of social connectedness and outdoor physical activity.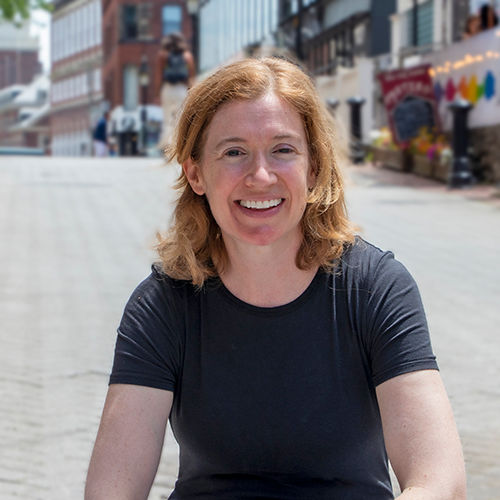 Dr. Amy Bantham
CEO and Founder of Move to Live MoreSM, Dr. Amy Bantham has 20 years of experience working in consulting, health & fitness, and healthcare. She holds a Doctor of Public Health from the Harvard T.H. Chan School of Public Health, with concentrations in Health Communication and Obesity Epidemiology & Prevention. Her doctoral project focused on physician exercise prescriptions/referrals and patient exercise behavior change. She is a certified group exercise instructor, personal trainer, and health & wellness coach. Dr. Bantham also holds a Master of Science from Northeastern University, a Master in Public Policy from the Harvard Kennedy School, and a Bachelor of Arts from Yale University