Butt & Hip Exercises
Leg Crossover Stretch
Target

Body Part:

Butt/Hips, Legs - Thighs

Equipment:

No Equipment

Difficulty:

Beginner
Step 1
Starting Position: Lie flat on your back on the floor / mat in a bent-knee position, arms outstretched to your sides at shoulder level, with palms facing upwards. Stiffen ("brace") your abdominal muscles to stabilize your spine, depress and retract your scapulae (pull shoulders back and down) without moving your trunk and attempt to hold these positions throughout the exercise. Cross one leg over the other, resting your ankle over the opposite knee.

Step 2
Gently exhale and slowly press the knee of the crossed leg away from your body as illustrated without moving your hips or trunk. This will increase the stretch in the outer thigh and hip muscles. Continue pushing your knee away from you until you reach the point of tension, avoid bouncing or pushing to the point of pain. You may also use your hand to push the crossed knee away from you.

Step 3
Hold this position for a moment then slowly rotate your hips towards the floor, bringing the sole of the elevated foot to rest firmly on the floor. Avoid any rotation through your trunk or arching in your low back will performing this movement.

Step 4
Hold this position for 15 – 30 seconds then relax and return to your starting position. Perform 2 – 4 repetitions then repeat to the opposite side.

Step 5
Exercise Variation: This stretch can become more dynamic by performing slow, controlled movements to complete 1 set of 5 - 10 repetitions with each leg, holding the stretched position for 1 - 2 seconds.
To maximize the benefits of a stretch and reduce the potential for injury, it is often important to stretch only to the point of tension, avoid bouncing and control movement at other segments of the body. During this stretch, attempt to avoid any rotation or arching in your low back.
Share: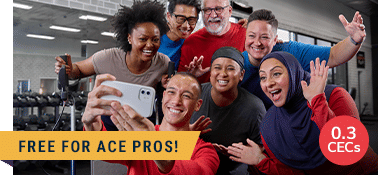 Taking Action with ACE:
Practicing Equity, Diversity and Inclusion as a Health and Exercise Professional
Get Course