Become an ACE Certified Health Coach and immerse yourself in the field with our most comprehensive, expert-led program packed with the advanced coaching skills, hands-on training and practical experience you need to accelerate your career.
---
Set
yourself

apart

Be career-ready, build
credibility and gain
confidence
Not only can you obtain an ACE Health Coach Certification, the only NCCA-accredited health coach certification program, you'll also be better prepared to rise in the field with confidence. Through mentorship and live feedback from ACE Master Coaches, this interactive program allows you to put behavior change coaching principles into action in a real-life setting so you can hit the ground running.

Learn and practice your
skills in an engaging
learning environment
Immerse yourself in a modern learning experience with a variety of learning formats that make the material easy to understand, apply and navigate—anytime, anywhere, on any device. Stay on track with your enhanced online dashboard and dedicated support team. Interact with engaging videos and self-study tools. Deepen your skills in expert-led virtual classrooms and one-on-one sessions.

Empower your clients with
the latest in health
coaching
The skills, strategies and techniques presented are backed with the most up-to-date, peer-reviewed research and have documented success in real-life scenarios. Coaching behavior change is at the core of everything you will learn and will help you create a truly inclusive environment that inspires lasting change. It is the philosophy that has made 90,000+ ACE Certified Pros successful and sought-after.
Get in-depth
experience

from the start

ACE Health Coach Advanced Training Program is an Approved Health and Wellness Coach Training & Education Program by the National Board for Health and Wellness Coaching (NBHWC).
CEC Credits
Courseware within the ACE Health Coach Advanced Training Program is approved for continuing education hours by the following organizations:
ACE
AAMA
ACSM
AFAA
CDR
NASM
NBHWC
NCSF
NETA
NFPT

ACE Health Coach Certified

2.0

Behavior Change Specialist

2.5
25.0
25.0
15.0
25.0
1.9
7.0
25.0
5.0

Behavior Change Mentorship:
Applied Principles

2.0
20.0
20.0
15.0
20.0
1.9
20.0
7.0
20.0
5.0

Behavior Change Mentorship:
Advanced Applications

1.9
19.0
19.0
15.0
19.0
1.9
19.0
7.0
5.0

Health Coach Lab:
Live Skills Assessment

0.3
Watch a

FREE

Guided Tour!
Sign up to get an inside look at how you'll move through the program with ease.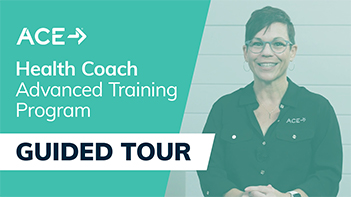 Enjoy

your Guided Tour!

Watch now. You will also receive the video in your inbox.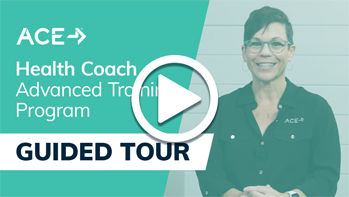 Got questions? Need help deciding if this program is right for you? Our ACE Experts are ready to help!
Schedule a quick program consultation call today!
Put your
career

into high gear.


Start today!
Already an ACE Certified Health Coach or Behavior Change Specialist?
You're on your way! Reach out to us and we'll recommend a personalized pathway for you to complete this program and enhance your career.