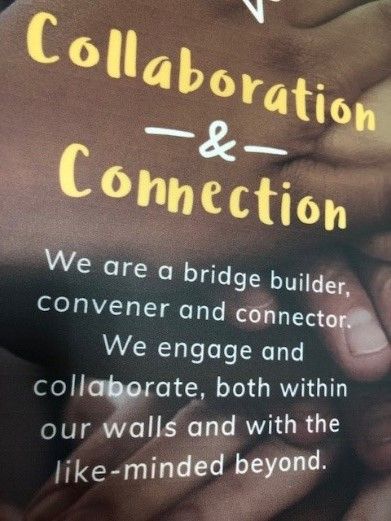 Collaboration is one of ACE's five core values. I just snapped this pic of the sign hanging on my wall. So I thought I'd try to rattle off the list of organizations that ACE is actively working with. It's a long list that doesn't appear in one place too often. And we don't make a fuss about it because we're also very inclined toward institutional humility. But the sum total tells a story of all that ACE is doing to set the stage for ACE Certified Professionals® to contribute to increase in physical-activity levels.
World Health Organization (WHO). We actively participate in the World Health Organization's Global Action Plan on Physical Activity. Dr. Cedric Bryant has been invited to Geneva three times in the past year to provide input on the implementation of this plan. This one is a biggie.
National Academies of Sciences, Engineering, Medicine (NASEM)

. ACE leadership serves as

a member of the NA

SE

M's

Roundtable on Obesity Solutions

.

Cooper Institute. Ever since Dr. Kenneth Cooper first demonstrated the link between being physically fit and reduced risk of mortality, this organization has been at the forefront of science connecting exercise and improved health outcomes. Cooper Institute is a close ally of ACE; in fact, ACE's Board of Directors had its fall meeting on the Cooper campus in Dallas, Texas.
National Physical Activity Plan Alliance (NPAPA). This organization is responsible for the federal physical-activity plan. ACE has representatives on three of its nine planning sectors, as well as our CEO Scott Goudeseune sitting on the Board of Directors.
Prescription for Activity (PfA) Task Force. We don't just participate in thought-leadership work. In this instance, ACE convened and underwrote it. The PfA Task Force mapped out a 15-year plan to unlock the vast potential of healthcare to help increase physical-activity levels. (Check out this cool video that walks through the recommendations.)
Universal Fitness & Innovation Transformation (UFIT). ACE has been a presenting sponsor for three years of this global initiative to make health clubs more accessible for people living with disabilities.
YMCA. ACE works with the YMCA because we love its mission to be centers for community-based physical activity. We work with the YMCA to co-develop educational programs to provide professional-development and other up-skilling opportunities to their employees who are certified exercise professionals and health coaches.
National Coalition for Promoting Physical Activity (NCPPA). We serve on the Board of Directors of NCPPA, and ACE staffers have twice served as chair over the past few years.
National Association of Physical Literacy (NAPL). Dr. Cedric Bryant serves on the Advisory Board of this organization, a global leader of physical literacy programming, certification, training and curriculum.
National Board for Health & Wellness Coaching (NBHWC). This organization is doing really interesting work to advance the health-coaching profession. ACE serves on its Council of Advisors.
Coalition for the Registration of Exercise Professionals (CREP). Ever since we were the first chair of this group back in 2014, we've been activity involved in the maintenance of USREPS. the only registry of exercise professionals that hold a certification accredited by the National Commission on Certifying Agencies (NCCA).
International Coalition for the Registration of Exercise Professionals (ICREP). ACE also is directly involved with this international partnership among those groups in various countries (like USREPS named above) that register exercise professionals.
Europe Active and the European Registry of Exercise Professionals (EREP). ACE is working with both of these groups to help ensure consistent standards of professionalism for exercise professionals across international borders.
Physical Activity Network for the Americas (RAFA-PANA). ACE has committed to help this organization, focused on Latin America, raise awareness of World Physical Activity Day.