ACE President and Chief Science Officer Cedric X. Bryant Receives Penn State Distinguished Alumni Award
Posted: Nov 08, 2021 in ACE Press Releases
San Diego, CA, November 08, 2021 - Cedric X. Bryant, president and chief science officer of the American Council on Exercise (ACE), was bestowed with Pennsylvania State University's Distinguished Alumni Award, the highest honor presented to its alumni.
"I am honored and humbled to receive Penn State's Distinguished Alumni Award," said Bryant. "My master's and doctorate studies at Penn State greatly contributed to the work I do today, and it is a tremendous privilege to be recognized as a distinguished alumnus."
Established by the Board of Trustees in 1951, the Distinguished Alumni Award salutes the achievements of alumni whose "personal lives, professional achievements, and community service exemplify the objectives of their alma mater."
"ACE is proud to have Dr. Bryant as part of ACE for almost 20 years," said Scott Goudeseune ACE chief executive officer. "Dr. Bryant's leadership of ACE's educational products and science and research throughout the years has made our organization well respected in academia, fitness and public health."
About Cedric X. Bryant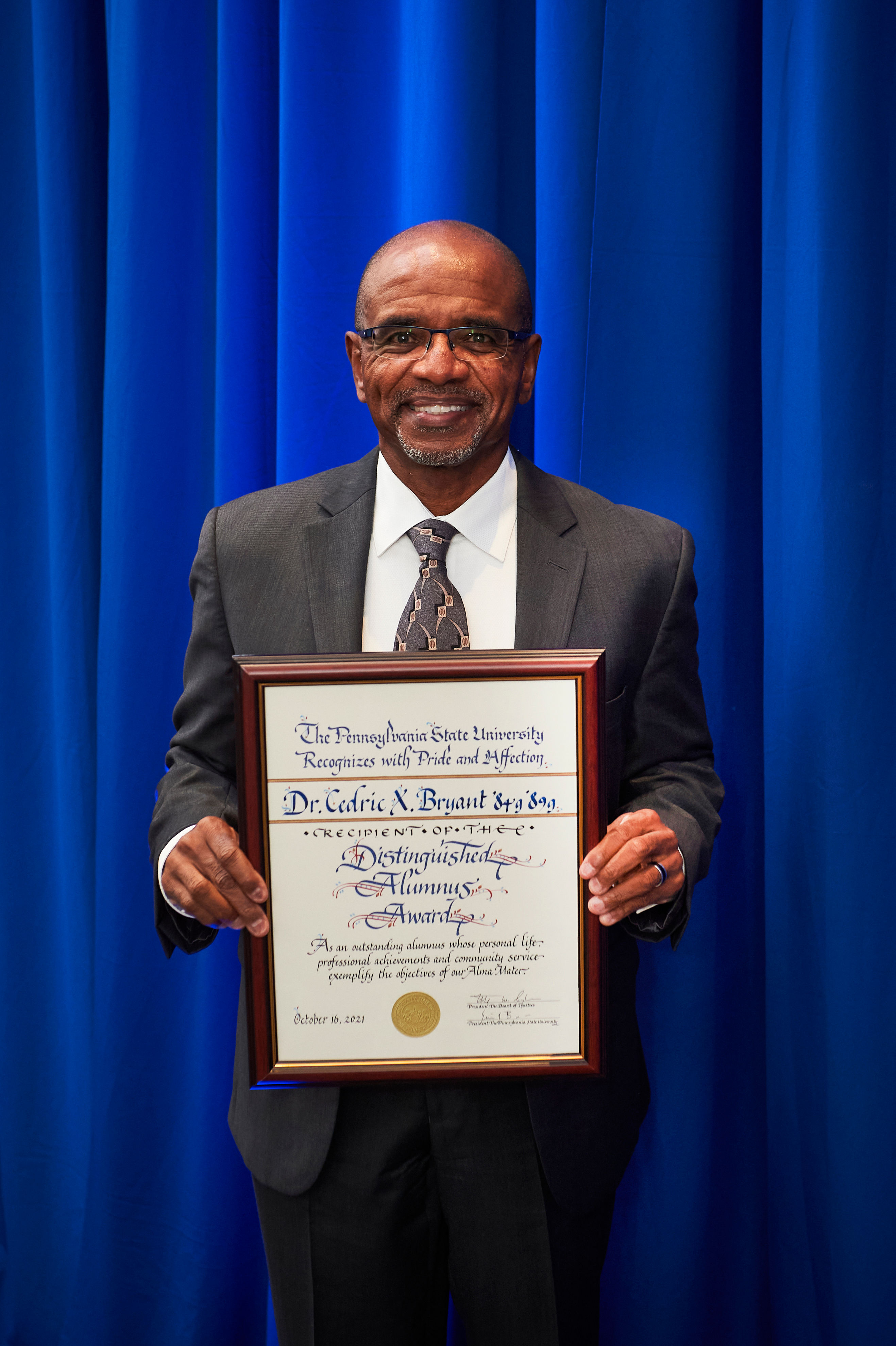 As President and Chief Science Officer, Cedric X. Bryant, Ph.D., FACSM, stewards ACE's development and delivery of exercise-science and behavior-change education in ways that are engaging and compelling, recruits more people to become exercise professionals and health coaches, and equips them for growth in their respective fields. He leads ACE's exploration of how their science-based programs and interventions appropriately integrate into healthcare and public health. Bryant also represents ACE by serving on the advisory boards and committees for several highly respected public health organizations including the World Health Organization, Centers for Disease Control and Prevention, and National Academy of Sciences, Engineering, and Medicine.
Bryant has written well over 300 articles or columns in fitness trade magazines, as well sports medicine and exercise science journals, and authored, co-authored or edited more than 40 books. He is often cited as a subject-matter expert for health and fitness articles in a variety of respected national media outlets including USA Today, New York Times, Wall Street Journal, Time, Newsweek, Consumer Reports, and more. Bryant has served on the editorial board or as a regular contributor for several publications including, Arthritis Today, Journal of Cardiopulmonary Rehabilitation and Prevention, The Physician and Sportsmedicine, US News & World Reports, and Women's Health. Bryant has also held academic appointments on the exercise science faculties at several leading institutions including West Point, Penn State and Arizona State.
As a community leader, Bryant has shared his knowledge of exercise science and athletics as a youth sports coach in baseball, basketball and soccer. He and his wife, Ginger, reside in Redmond, WA, where they raised four sons.
###
The American Council on Exercise is a nonprofit organization with global reach that works to improve physical-activity levels by certifying exercise professionals and health coaches, publishing original research, convening experts on physical activity and health, working directly with community groups, and advocating for policies to get people from all walks of life moving. The 90,000 exercise professionals and health coaches certified by ACE are among the most respected in the world of fitness, helping people embrace physical activity and adopt healthier lifestyles. For more information, call 800-825-3636 or visit ACEfitness.org. AMERICAN COUNCIL ON EXERCISE, ACE and ACE logos are Registered Trademarks of the American Council on Exercise.
Sign up for ACE Press Alerts
2022 ACE Impact Report
Get a more in-depth look at the work ACE has done in the past year, as well as the progress our country has made in responding to the obesity and chronic disease epidemics.
View