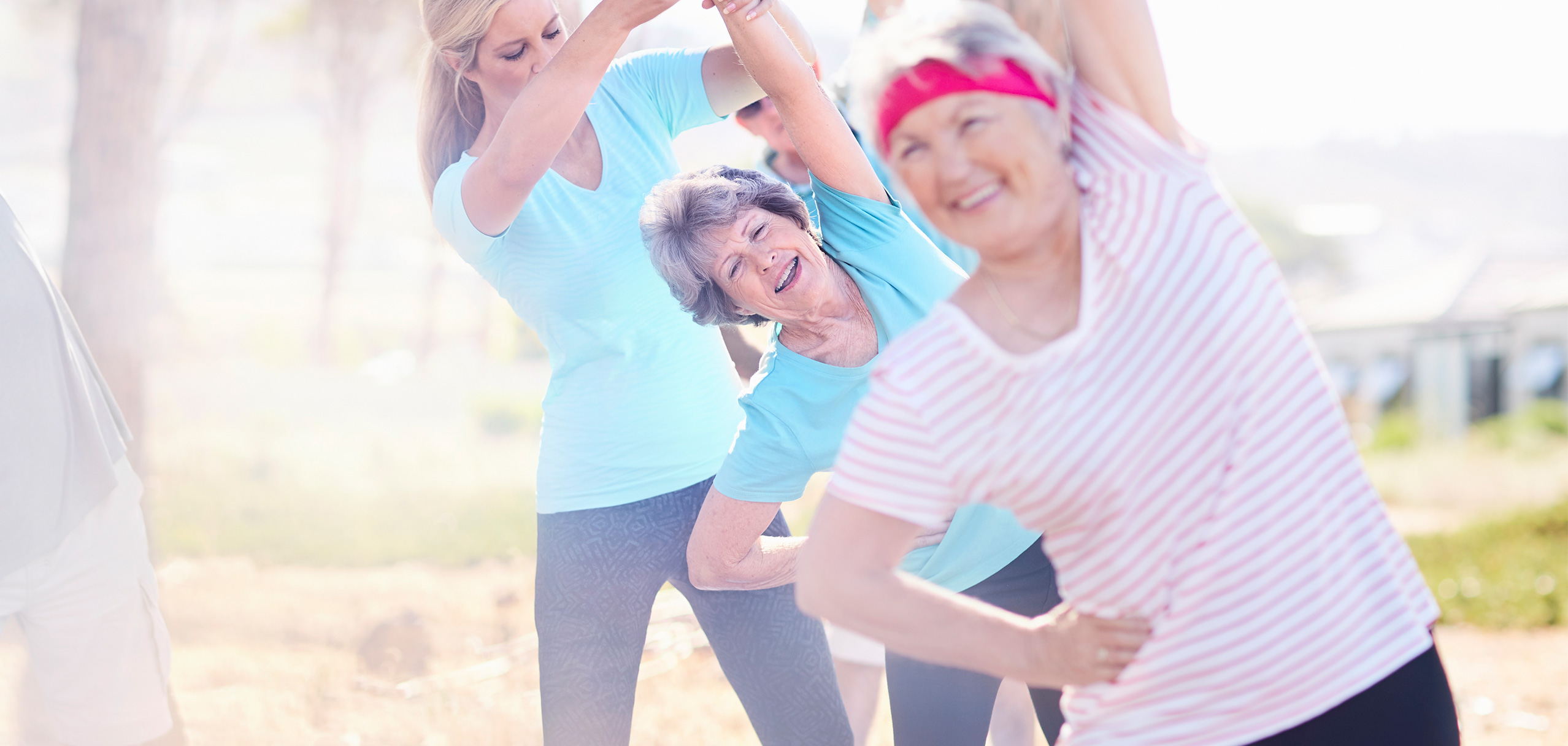 | | |
| --- | --- |
| Provider: | Functional Aging Institute |
| Included: | |
Lead active agers toward vibrant health
As a group fitness instructor, it's likely that you're already teaching to active agers. Continuing to exercise through all phases of life is critical to maintaining overall health and well-being; however, getting active agers moving safely and effectively requires specialized training that addresses their unique needs.
The Functional Aging Group Exercise Specialist program was built upon the Functional Aging Training Model (FATM), which was developed from the well-established theory of function known as the Modified Disablement Model (used by the World Health Organization). Using this model, along with 25 years of combined fitness experience, functional aging experts Dan Ritchie, Ph.D. and Cody Sipe, Ph.D., developed this innovative and effective approach to functional training. Dan and Cody have shared their knowledge and expertise with tens of thousands of trainers worldwide, and are considered to be the industry leaders in functional aging.
You will gain an in-depth understanding of functional training strategies and movements; how to create effective group exercise programs; and how to safely implement these strategies in a large group setting with students who are functionally diverse.
Who is it designed for?
The Functional Aging Group Exercise Specialist program, offered by the Functional Aging Institute, was created for health and fitness professionals who want to become experts in safely and effectively designing and leading group exercise programs for active agers. This course will help you better understand when to fully apply a training method versus when to modify it based on range of motion limitations, joint stability and/or cardio/respiratory conditions.

If you are trained in a specific modality, such as Pilates, yoga or boot camp, the Functional Aging Group Exercise Specialist Program will teach you how to use those methods in a safer and more effective manner with active agers.
How do I earn one?
To become a Functional Aging Group Exercise Specialist, you must complete all the components listed below and pass three exams associated with the material. Upon successful completion of all lessons, you will be recognized as a Functional Aging Group Exercise Specialist by the Functional Aging Institute (FAI). This specialist program is valued at 9 continuing education hours.
In addition, you will be added to the FAI's certified professional map, where potential clients can find a FAI certified trainer in their area. Please note: This specialist program has a renewal period of two years. To renew, you must report 40 CEUs to FAI and pay a renewal fee of $49.
Payment Options
Functional Aging Group Exercise Specialist Program
Curriculum
Functional Aging Group Exercise Specialist Program
More ACE Specialist Programs
The American Council on Exercise reserves the right to discontinue the sale and/or support of any continuing education course at any time, in order to cancel, correct, or update content based on current industry standards, guidelines, and/or technological advances. Notification will be given 6 months prior to expiration to allow for course completion and no refund will be given for expiring courses.